Pulley Power Steering V8 Single Groove Ford Pump 5 & 7/32" Diameter 1965 - 1970 - ACP
Part #: 3319
Manufacturer Part #: FM-EP003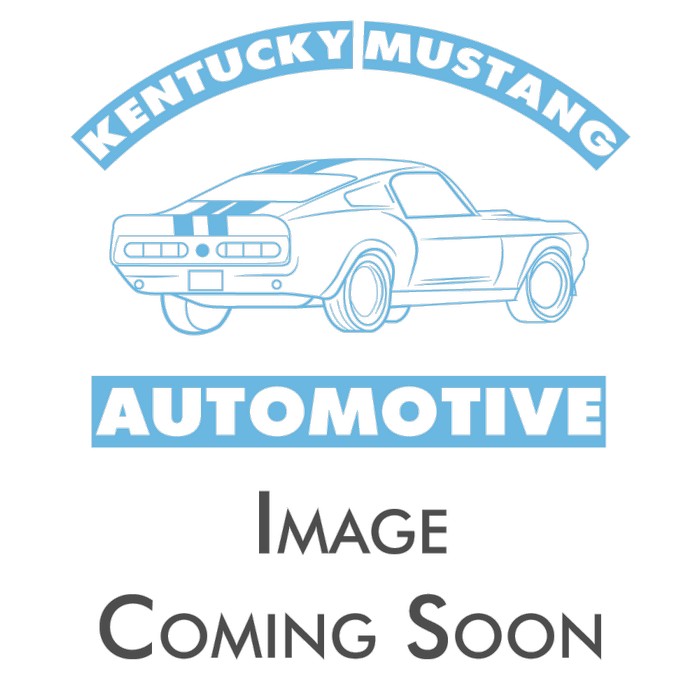 5 in stock
Qty in stock at our store in KY. If more are ordered than in stock, we'll backorder the remaining items.
Shipping & Returns Information

Fits Ford pump
Power Steering Pump Pulley
Direct-fit replacement installs on the power steering pump as part of the engine's accesory drive
Factory-correct reproduction restores original appearance and functionality, or adds it if converting from manual steering
Exact OE Specifications
ACP strives to match or exceed OE Correct standards for each of our products to maintain the original factory look.
Long-Lasting Reliability
By controlling the entire manufacturing process for each product our team provides you with the highest quality, and longest lasting replacement parts.
Direct Fitment
Our team knows how important it is to get the right fit that"â"¢s why we enforce a strict level of fitment standards for each of our direct-to-fit replacement parts.
Specifications
Material Steel
Color/Finish Black
Size 5 7/32" OD | 11/16" ID
Ford Bronco (1973-1977)
1973 Ford Bronco | 302 with Air Conditioning
1974 Ford Bronco | 302 with Air Conditioning
1975 Ford Bronco | 302 with Air Conditioning
1976 Ford Bronco | 302 with Air Conditioning
1977 Ford Bronco | 302 with Air Conditioning
Ford Country Sedan (1965-1972)
1965 Ford Country Sedan | 289/352/390/428 With AC
1966 Ford Country Sedan | 289/352/390/428 With AC
1967 Ford Country Sedan | 289 Without AC, With TE; 390/428 With AC
1968 Ford Country Sedan | 390/428 With AC
1969 Ford Country Sedan | 390/428 With AC
1970 Ford Country Sedan | 390/428 With AC
1971 Ford Country Sedan | 390 With AC
1972 Ford Country Sedan | 390 With AC
Ford Country Squire (1965-1972)
1965 Ford Country Squire | 289/352/390/428 With AC
1966 Ford Country Squire | 289/352/390/428 With AC
1967 Ford Country Squire | 289 Without AC, With TE; 390/428 With AC
1968 Ford Country Squire | 390/428 With AC
1969 Ford Country Squire | 390/428 With AC
1970 Ford Country Squire | 390/428 With AC
1971 Ford Country Squire | 390 With AC
1972 Ford Country Squire | 390 With AC
Ford Custom (1965-1972)
1965 Ford Custom | 289/352/390/428 With AC
1966 Ford Custom | 289/352/390/428 With AC
1967 Ford Custom | 289 Without AC, With TE; 390/428 With AC
1968 Ford Custom | 390/428 With AC
1969 Ford Custom | 390/428 With AC
1970 Ford Custom | 390/428 With AC
1971 Ford Custom | 390 With AC
1972 Ford Custom | 390 With AC
Ford Econoline E-100 (1973-1977)
1973 Ford Econoline E-100 | All
1974 Ford Econoline E-100 | 240; 300 with TE; V8
1975 Ford Econoline E-100 | V8
1976 Ford Econoline E-100 | V8
1977 Ford Econoline E-100 | V8
Ford Econoline E-150 (1975-1977)
1975 Ford Econoline E-150 | V8
1976 Ford Econoline E-150 | V8
1977 Ford Econoline E-150 | V8
Ford Econoline E-200 (1973-1974)
1973 Ford Econoline E-200 | All
1974 Ford Econoline E-200 | 240; 300 with TE; V8
Ford Econoline E-250 (1975-1977)
1975 Ford Econoline E-250 | V8
1976 Ford Econoline E-250 | V8
1977 Ford Econoline E-250 | V8
Ford Econoline E-300 (1973-1974)
1973 Ford Econoline E-300 | All
1974 Ford Econoline E-300 | 240; 300 with TE; V8
Ford Econoline E-350 (1975-1977)
1975 Ford Econoline E-350 | V8
1976 Ford Econoline E-350 | V8
1977 Ford Econoline E-350 | V8
Ford Fairlane (1965-1969)
1965 Ford Fairlane | 289 With AC
1966 Ford Fairlane | 289 With AC
1967 Ford Fairlane | 390/427 With AC
1968 Ford Fairlane | 390/GT With AC
1969 Ford Fairlane | 302/351W Without AC or Dual Belt Alternator; 390/428 With AC
Ford Falcon (1965-1966, 1969-1970)
1965 Ford Falcon | V8 With AC
1966 Ford Falcon | V8 With AC
1969 Ford Falcon | V8 With AC
1970 Ford Falcon | V8 With AC
Ford Galaxie (1965-1972)
1965 Ford Galaxie | 289/352/390/428 With AC
1966 Ford Galaxie | 289/352/390/428 With AC
1967 Ford Galaxie | 289 Without AC, With TE; 390/428 With AC
1968 Ford Galaxie | 390/428 With AC
1969 Ford Galaxie | 390/428 With AC
1970 Ford Galaxie | 390/428 With AC
1971 Ford Galaxie | 390 With AC
1972 Ford Galaxie | 390 With AC
Ford LTD (1965-1972)
1965 Ford LTD | 289/352/390/428 With AC
1966 Ford LTD | 289/352/390/428 With AC
1967 Ford LTD | 289 Without AC, With TE; 390/428 With AC
1968 Ford LTD | 390/428 With AC
1969 Ford LTD | 390/428 With AC
1970 Ford LTD | 390/428 With AC
1971 Ford LTD | 390 With AC
1972 Ford LTD | 390 With AC
Ford Mustang (1965-1970)
1965 Ford Mustang | 289 With AC
1966 Ford Mustang | 289 With AC
1967 Ford Mustang | 390 With AC
1968 Ford Mustang | 390/GT With AC
1969 Ford Mustang | 302/351 Without AC or Dual Belt Alternator; 390/428 With AC
1970 Ford Mustang | 390/428 With AC
Ford Ranch Wagon (1965-1972)
1965 Ford Ranch Wagon | 289/352/390/428 With AC
1966 Ford Ranch Wagon | 289/352/390/428 With AC
1967 Ford Ranch Wagon | 289 Without AC, With TE; 390/428 With AC
1968 Ford Ranch Wagon | 390/428 With AC
1969 Ford Ranch Wagon | 390/428 With AC
1970 Ford Ranch Wagon | 390/428 With AC
1971 Ford Ranch Wagon | 390 With AC
1972 Ford Ranch Wagon | 390 With AC
Ford Thunderbird (1965-1969)
1965 Ford Thunderbird | V8 With AC
1966 Ford Thunderbird | V8 With AC
1967 Ford Thunderbird | V8 Without TE
1968 Ford Thunderbird | 390
1969 Ford Thunderbird | 390
Ford Torino (1968-1969)
1968 Ford Torino | 390/GT With AC
1969 Ford Torino | 302/351W Without AC or Dual Belt Alternator; 390/428 With AC
Ford Truck F-100 (1968-1970, 1973-1977)
1968 Ford Truck F-100 | 360/390 With AC
1969 Ford Truck F-100 | 360/390 With AC
1970 Ford Truck F-100 | 360/390 With AC
1973 Ford Truck F-100 | 360/390 With AC
1974 Ford Truck F-100 | 360/390 With AC
1975 Ford Truck F-100 | 360/390 With AC
1976 Ford Truck F-100 | 360/390 With AC
1977 Ford Truck F-100 | 360/390 With AC
Ford Truck F-150 (1975-1977)
1975 Ford Truck F-150 | 360/390 With AC
1976 Ford Truck F-150 | 360/390 With AC
1977 Ford Truck F-150 | 360/390 With AC
Ford Truck F-250 (1968-1970, 1973-1977)
1968 Ford Truck F-250 | 360/390 With AC
1969 Ford Truck F-250 | 360/390 With AC
1970 Ford Truck F-250 | 360/390 With AC
1973 Ford Truck F-250 | 360/390 With AC
1974 Ford Truck F-250 | 360/390 With AC
1975 Ford Truck F-250 | 360/390 With AC
1976 Ford Truck F-250 | 360/390 With AC
1977 Ford Truck F-250 | 360/390 With AC
Ford Truck F-350 (1968-1970, 1973-1977)
1968 Ford Truck F-350 | 360/390 With AC
1969 Ford Truck F-350 | 360/390 With AC
1970 Ford Truck F-350 | 360/390 With AC
1973 Ford Truck F-350 | 360/390 With AC
1974 Ford Truck F-350 | 360/390 With AC
1975 Ford Truck F-350 | 360/390 With AC
1976 Ford Truck F-350 | 360/390 With AC
1977 Ford Truck F-350 | 360/390 With AC
Mercury Comet (1965-1969)
1965 Mercury Comet | 289 With AC; 390 Without AC or Dual Belt Alternator
1966 Mercury Comet | 289 With AC; 390 Without AC or Dual Belt Alternator
1967 Mercury Comet | 390/427 With AC
1968 Mercury Comet | 390 With AC
1969 Mercury Comet | 302/351W Without AC or Dual Belt Alternator; 390/428 With AC
Mercury Cougar (1967-1970)
1967 Mercury Cougar | 289 With AC
1968 Mercury Cougar | 390/GT With AC
1969 Mercury Cougar | 351 With or Without AC; 390/427/428 With AC
1970 Mercury Cougar | 390/428 With AC
More Information

| | |
| --- | --- |
| Year | 1965, 1966, 1967, 1968, 1969, 1970 |
| Manufacturer | ACP (All Classic Parts) |
| Truck Freight | No |
| California Prop 65 | WARNING: Cancer and Reproductive Harm. www.P65Warnings.ca.gov for more information. |